Prairie Forest Products
Cedartone Decking Selection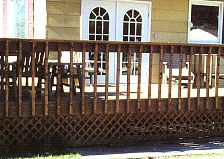 Top Quality Wood
Wood processed and preserved as Cedartone Classic is hand selected for premium appearance from slow-growth, stable Canadian softwood species. All stock meets or exceeds construction grades in strength and durability, Cedartone Decking making it ideal for all deck and fence construction-from decking and fence boards, to posts, joists, rails and beams. In many ways, Canadian SPF is more suited to deck surface applications than the southern pines. It is much easier to nail, its fine grain does not weather or wear to a washboard pattern, and it does not check as badly.
Rich Pre-stained Colour
Cedartone Classic pressure treated wood is stained a warm, natural cedar colour before preservative treatment. The factory stain application produces more consistent, long-lasting colour on all sides of the wood than possible by brushing.
Long-lasting Preservative Protection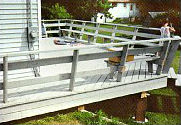 All Cedartone Classic products are preserved in a state-of-the-art vacuum-pressure process, using Timber Specialties Co. ACQ preservative, a water-based preservative composed of alkaline, copper, quaternary, which is a proven second generation wood preservative.
Wide Assortment of Sizes and Lengths
Cedartone Classic pressure treated wood is available in a wide assortment of popular sizes and lengths of lumber for any outdoor project.
| Dimensions | Pieces per Lift |
| --- | --- |
| 2x4xR/L-8' through 16' | 156 |
| 2x6xR/L-8' through 16' | 96 |
| 2x8xR/L-8' through 16' | 72 |
| 2x10xR/L-8' through 16' | 40 |
| 4x4xR/L-8' through 16' | 65 |
| 4x4x9' | 65 |
| 1x6x5' & 6' S4S | 256 |
| 1x6xR/L-8' through 16' S4S | 232 |